So, after the premiere of "
The Marvelous Misadventures of Flapjack
" (which I previously reviewed), we got the United States premiere of "Total Drama Island". The reason why I said 'United States premiere' instead of just premiere is because this show is Canadian. And this series premiered in Canada a year ago on
Teletoon
. In fact, it's second season (titled "Total Drama Action") is going to premiere in Fall. Anyway, I was kinda surprised to see a show like this. First of all, it's...actually, let me talk about it in the review. Is that okay?
--------------------------------------------------------------------------------------
Running Time: 22 minutes
Rating: C+
Premiere: July 8, 2007 (Canada); June 5, 2008 (United States)
Well, it's best for me to start with that little stereotype about Canadian cartoons. You know, the one about all cartoons from Canada totally sucking? Well, that stereotype is wrong...half of the time, anyway. And for this show, that stereotype may just be half right. Well, this show doesn't exactly suck, but it isn't a masterpiece either. Maybe my hopes where too high? After all, this premiered right after I finished laughed at the decently good comedy that is "Flapjack". Maybe I was expecting a huge parody of the entire reality series genre? Yes, this show is an animated reality series...a concept that is pretty weird to me. On a side note, this is the first cartoon to ever do such a thing. So anyway, something I hate about Canadian cartoons is that the series premiere of them is almost always a two-parter. With that "new" episode of "
Johnny Test
" airing right after TDI, there was obviously no hope for Cartoon Network to show the entire hour-long premiere on Thursday. It started like any reality series (animated or not) should start out: The host explaining the location, the show, the rules, etc. And then we meet the contestants. All 22 of them...but wait, aren't there 26 episodes in this season? Will we ever get real character development and some episodes where no characters are eliminated? It's pretty possible. Basically, all "Not So Happy Campers" (the name of the pilot of course) did was introduce us to all the characters and give us brief glances at their personalities. And you can automatically tell...they are all stereotypes. But I'm pretty sure that that was the intention. And you can't really get some real character development until at least half of these guys are eliminated.
So, one thing that amazes me about this series is how it owes up to it's PG rating. Besides a few censored words like "crap" (which I think was uttered only once), Cartoon Network kept a lot of things in. In this first episode, Cartoon Network (thankfully) kept in a homosexual gag that was done halfway into the episode. Now, I always knew that Cartoon Network's BS&P was more accepting than those of other kids' channels, but I never thought they would accept this. I personally think they kept it in because they knew this joke would go over the heads of younger kids, and only teenagers and adults would catch it. However, I've been told that this joke is tame in comparison with other things later in the season, so let's see how Cartoon Network. Anyway, so in case you didn't know, the creators of this show also created "
6teen
". You know, that animated series that got bounced around a lot on
Nickelodeon
's schedule and eventually got taken off the air due to poor ratings (if you bounce any show around a lot, it's bound for bad ratings). Anyway, Cartoon Network seems to be thanking care of this show. It gets advertised quite a bit (not as much as "
Ben 10: Alien Force
", "
Flapjack
", and "
Chowder
", but still a lot), so Cartoon Network really wants it to do well. I can't say that much about the production and ideas behind the show since the closest I've found for that is the
official blog
and a lot of the information there has been taken down to avoid spoilers for American viewers (thus leaving me with only two pictures bad, low resoultion pictures found off the Internet to show you guys).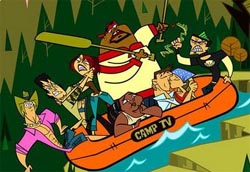 Anyway, I gave this show a C+ because, despite being a comedy, it didn't make me laugh at all. "Chowder" makes me laugh. "Flapjack" makes me laugh. But this show just doesn't make me laugh. Maybe it will in the future, but I won't really let you know that until I do a follow-up review a bit later...anyway, see you tomorrow when I get down to reviewing "
Speed Racer
". The new cartoon, not the live-action movie....